INVESTORS ONLY
COMING SOON!
First Home Builders, LLC – Construction Funding/Lending Platform
The Need for Funds – We're Launching a Lending Platform!
Allow Investors to Build a Diversified Loan Portfolio
Allow Investors to Fund Construction Loans on New, Custom Built Homes
Help Affordable Home Buyers Reach their Dream of Home Ownership!
Assist First Time Home Buyers with Purchasing their First Home
Are you interested in helping first time home buyers purchase newly built homes? Investing funds for loans secured by residential real estate and for First Time Home Buyers is a great addition to a diverse investment strategy. Once you are approved with the Vettraino Group and First Home Builders, LLC as a qualified investor, you can expect to earn 6%-12% annualized returns on your investment. You will have access to loans available on our online investment platform with opportunities to invest as little as $10,000 per deal. Our team of seasoned real estate experts handles the entire home building process, purchase contracts, Mortgage underwriting and operational aspects of each loan. We will be your direct resource to answer any questions and handle requests during the life of the funded project.
You will enjoy one lump sum or monthly interest only payments for the term of the investment, (typical turn time will be 8-16 weeks) as well as online access to our investor platform/portal to review your entire loan portfolio updated in real time. As an investor with First Home Builders, LLC, you will receive our world class customer service and professionalism with every deal. "Coming soon" you will be available to review our Subscription Agreements, Prospectus, Circulars and other relating documents including our entire investor package and begin investing in private residential construction loans helping affordable home buyers build their first home with First Home Builders, LLC.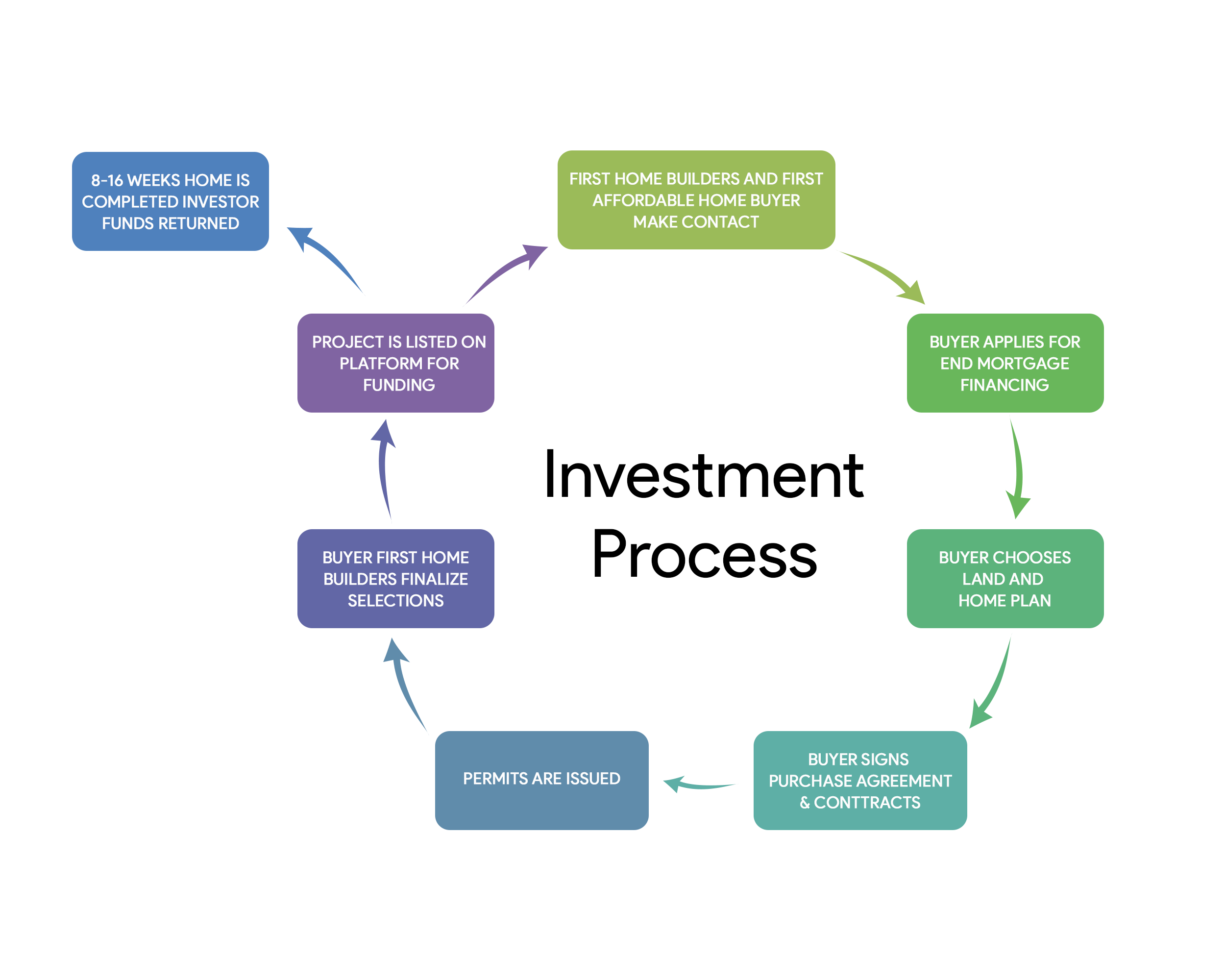 WHY IS THIS AFFORDABLE HOUSING CONSTRUCTION LENDING PLATFORM NEEDED?
Since 2012, housing affordability and construction financing for prospective home buyers has declined. The National Association of Home Builders/Wells Fargo Housing Opportunity Index revealed that 77.5% of new and existing home sales were affordable under standard underwriting criteria for a typical family in early 2012. This places current affordability conditions at a 10-year low and the problem appears to be getting worse.
Construction Financing issues also are holding back the affordable housing market. While we typically think of mortgage access as the main issue for buyers and focus within the housing sector, the lack of available financing for acquisition, development and construction (AD&C) debt also is an important factor restraining construction and increasing costs.
Their Loss, Our Gain – We Get-It
According to NAHB analysis of FDIC data, the stock of outstanding residential construction loans totaled $79 billion at the end of the final quarter of 2018.
While this is a significant improvement of the $40.7 billion total from the first quarter of 2013, it is substantially smaller than the $203.8 billion stock outstanding from early 2008.
Affordable housing construction financing is primarily undertaken by smaller financial institutions. Banking data shows that 56% of these loans are held by institutions with less than $10 billion of assets. This is negative news for the consumers, builders and developers to help ease the housing affordability crisis in the United States. AD&C financing is critical for land developers and home builders to develop lots and construct homes. Until improvements for this sector are addressed and the likes of Fannie Mae and Freddie Mac are allowed to play a more active role in facilitating affordable AD&C financing, particularly among smaller lenders, this keeps the door open for lending platforms like First Home Builder's Lending Platform! The larger lenders may be too late in entering game. Crowd funding real estate platforms are filling the void and the big players may never catch up! Also, stricter availability of AD&C financing will mean future declines for housing affordability and therefore, increase the demand for what First Home Builders is creating today.
As stated above, most end loan/permanent mortgage insuring bodies like VA, FHA, USDA Rural Development and most first-time home buyer mortgage options do not include the funds for construction. First time home buyers usually do not have the cash to meet the required down payments on construction loan products today. Mortgage Lenders and Insuring institutions will fund or private mortgage-insure the end/permanent mortgage once the home is built.
The lack of available construction funds to first time home buyers is the number one reason keeping individuals today from building a new home. First Home Builders, LLC and the Vettraino Group of Companies funds 90% of our first-time home buyer clients during construction. We have clients waiting for our internal funds to free up from current projects. Today with the lack of quality affordable homes that are "Move-in ready" and available to purchase, more home buyers are turning to the option of building a new affordable home thanks to First Home Builders, LLC.
Having our 1Roof Family Companies, including our wholly owned Mortgage Banking / Mortgage Servicing Company, we approve prospective home buyers for their permanent loan prior to construction. We verify employment, credit and have the loan independently underwritten by the institution funding the permanent loan. The permanent loan is reviewed by underwriting as if the house existed today. We have an independent bank appraisal completed based upon the "as completed value". This appraisal, performed by a State Licensed Appraiser, provides us an unbiased, independent value so we know what the value is of the subject property will be once completed. Next, First Home Builders executes and Agreement to Build Contract with the customer and we pay off the land/lot, obtain permits, secure investor approvals/funding, build the home, and obtain the final Certificate of Occupancy. Once occupancy is approved, we close on the end mortgage and receive the construction payoff funds. Once the payoff is received, we will return the funds plus interest to investors.
We are launching a real estate crowd funding lending platform where we will grade/rate the investment, provide an independent value of the collateral and pre-approve the home buyer for the permanent mortgage, before the loan offering becomes live on the platform.
The Platform will offer future investors the opportunity to fund the entire project by fractional investments in multiple projects. Every offering going live on the platform will provide the property address, future homeowner names, credit scores and other personal information deemed necessary, so our investors can properly assess rate investment/loan risk.
Projected terms for First Home projects range 8-16 weeks build time. This short construction time frame will allow our investors to earn higher compounded rates of returns and limit risks by quick turnover. First Home Builders will invest "first" into every listed project as our "Skin in the Game" by paying off 100% of the land/property on every project.
Below are some, but not all, of the highlights of the platform and quality of the investment opportunity.
Coming soon you can Start Earning Over 8% on Average, Interest only
payments,
Debt Financing, Equity Financing options Coming Soon!
RETURNS ON INVESTMENT: Earn 6%-12% Returns; we've paid investors thousands of dollars in interest payments and returned principal, with $0 loss! We appreciate your confidence in us, and we show this by never charging investor fees or servicing fees on funds, yes ZERO FEES! In some cases, we will also pay you a funding fee (equal to 1% or 100 basis points) in addition to the interest income, based on the amount of your investment at loan payoff. Investors have earned an annualized return over 8.00% with principal repayment in under 12 weeks on average. This has been our past performance with current, in-house private investors through Vettraino Homes. The future offerings through the new First Home Builder Lending Platform will have repayment time frames averaging within 8-16 weeks! First Home Builders has developed a process of building First Homes with this timeframe, 8-16 weeks, from the home groundbreaking to Certificate of Occupancy and end mortgage financing. We are doing this now!
How it Works: You can invest in pre-vetted real estate, First Home Builder affordable home projects. All new construction custom stick-built affordable homes sell under $195,000.00. Invest from the comfort of your home in $10,000 increments. Our experienced team thoroughly completes mortgage financing due diligence on each potential buyer by running a credit report, verifying employment, assets, liabilities, and procures the permanent financing approval before any funds are disbursed. We invest and have "Skin in the Game" in every deal alongside you to make sure our incentives remain aligned. Past investments through Vettraino Homes have returned over 8% annually on average.
Diversification: Loans are available at different grades, returning 6% to 12%. You're in control and get to choose the specific loans you want to invest in.
Short-Term: First Home Builders construction loan terms are typically are set up on 8-16 weeks duration, so you're not locked in for years.
Collateral-Secured: First Home Builders loans are secured by the underlying real estate asset or collateral. Loans will be made directly to First Home Builders, LLC.
Open to Everyone: First Home Builders loans will potentially be open to everyone, not just accredited investors. Approvals from the SEC are currently ongoing.
High Underwriting Standards: Our team uses industry leading practices, including a proprietary underwriting system to analyze investment quality and risk.
Confident: We are so confident in our underwriting standards that First Home Builders pays off 100% of the property before investor funds are used. This will be on every loan we offer to investors and post on the platform. We call this "Skin in the Game". We invest right along your side on every deal.
Downside Protection: Your investment correlates to an underlying first-lien position mortgage. In the event the project doesn't go as planned, your downside will be protected by the value of the real property. Your investment is further insulated by First Home Builders "Skin in the Game" property payoff which is usually 20%-30% equity infusion.
The Process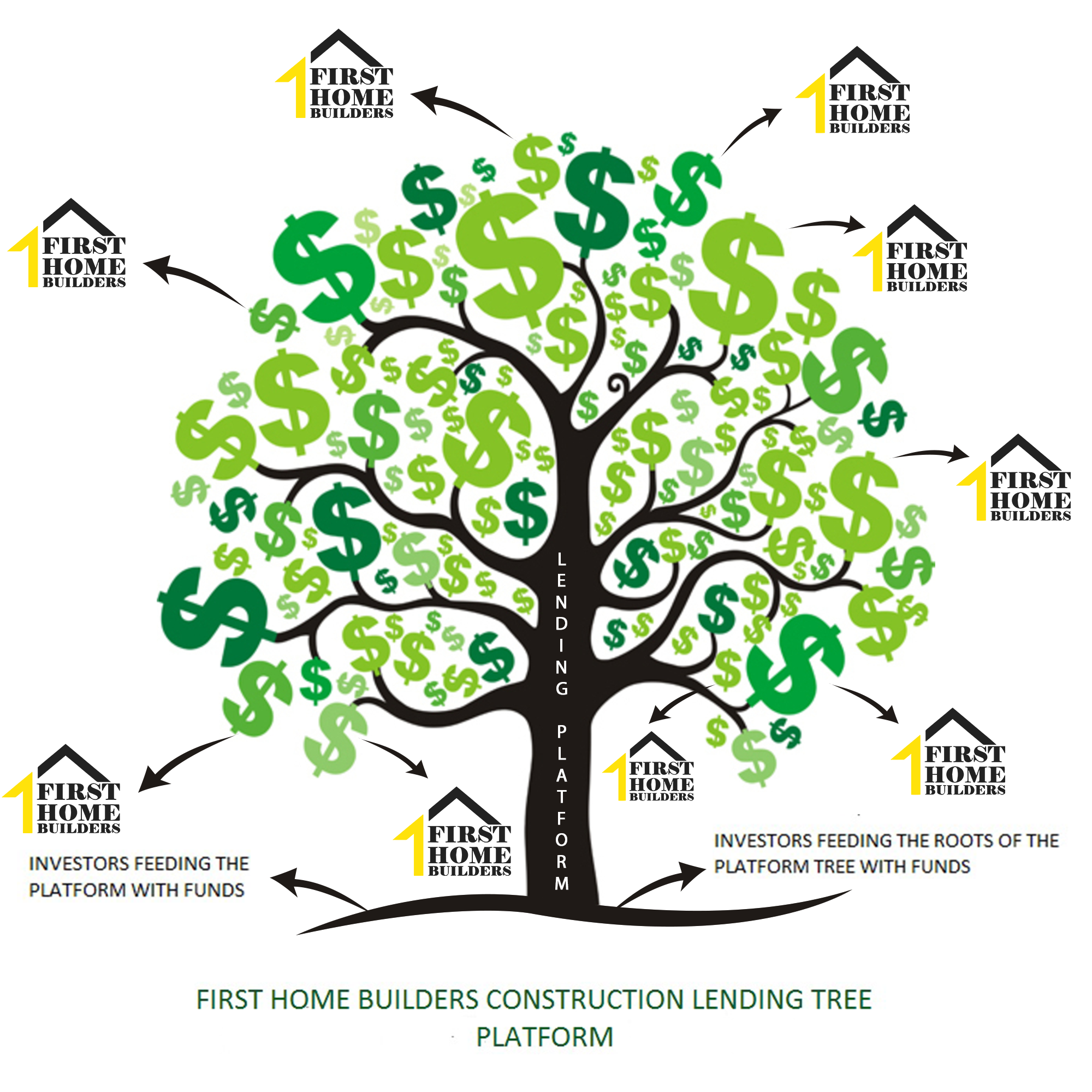 1. Mortgage Banking and Loan Servicing Licensed and Experienced, Residential Home Builder, Licensed Brokerage firm, State of Michigan.
Mortgage Capital Solutions our wholly owned licensed mortgage banker licensed as a Lender/Servicer, and Broker in Michigan and Florida with extensive experience in construction lending, Mortgage Capital Solutions (MCS) D.B.A Construction Capital Solutions (CCS) organized corporation in the state of Delaware. Our professional history includes, a past Fannie Mae seller and loan servicer lender that managed over $1 Billion in construction/permanent loans with construction loan draw administration and management expertise.
We own a licensed Custom Home building company, Vettraino Homes and First Home Builders along with a licensed Real Estate Brokerage Company VH Real Estate. Since 1998, Vettraino Group with other wholly owned lending companies, funded and managed over $1 Billion dollars in Residential Construction to Permanent loans in Michigan and Florida. We have extensive experience in real estate transactions with proven success and repeat customers. We also managed residential construction portfolios for other banks, credit unions, and private lending institutions across the country.
2. The perfect Opportunity to fund short term construction loans is with First Home Builders!
First Home Builders will be paying off 100% of the property/land of the loans listed on the platform. It is important to know how much equity is in each project. The equity from First Home Builders "skin in the game" will increase the safety of our investor's investment. By using the appraised market value along with the most recent market sales comparables, we will ensure that each First Home Builders deal will have a positive equity position should the property need to be resold. Hazard insurance will be paid before closing, the property will have all permits issued and in hand before funding, along with a fully insured title insurance policy providing all the investors security in the loan from future lien claims.
Typical Loan Structure Example
$ 150,000 Total Build Cost
– $ 30,000 Land/Lot – 100% Paid Off by First Home Builders
= $120,000 Loan Amount Request from Investor Pool; Listed on Platform
Loan to Value Ratio (LTV) based on Acquisition Costs, 80% LTV is typical.
The homes' appraised value in areas where we build are typically $175,000.00 – $200,000.00 on an average for a First Home Builder new construction home.
3. The Right People backing each investment
Permanent mortgage loans are typically made to borrowers with proper documentation. Even though each loan will be made to First Home Builders, LLC it will be backed by the end mortgage approval of the purchaser. Payments will be guaranteed by the Purchaser! Every project will have a permanent mortgage loan approved and will be independently underwritten by the lender supplying the permanent mortgage and made available to our investors. The purchaser will sign off on a privacy agreement that will allow sharing of all relevant personal information for investor screening and we will also allow every investor direct contact with every borrower. We feel it is important to allow each investor the ability to conduct additional due diligence if needed. This information will be made available to each funded investor within the platform and on the specific offering/project looking for funding. The permanent/take out mortgage loan approval will be subject to the project being completed based on the prospective home's plans and specifications.
4. Insurance & Protection
All our loans listed on the platform will require involvement of licensed escrow or Title companies. The title company will handle the recording documents, issue a title policy on the project, and manage all waivers of liens and the Sworn Statement for each disbursement. Title companies in Michigan are required to be a fiduciary for all parties and require waivers from every supplier and contractor showing they have been paid. As an additional layer of safety, we may instruct our investors to send their loan wires to the title company, which in turn will disburse funds to First Home Builders. Title companies have a much higher threshold of regulation by the Insurance Department including errors and omissions and liability insurance requirements. We have long standing reputable relationships with all our partner title companies. All investor funds will reside and be deposited immediately into a third-party escrow account with Comerica Bank, Comerica Bank being named as the Custodian and Trustee.
5. Documentation
This investment will be considered a "Debt" investment. You will be presented with disclosures, Fractional Notes and or Mortgage and servicing documents that you will complete and sign before your investment funds. Your investment will be evidenced by the Promissory Notes, Deed of Trust and other Riders as one of the beneficiaries (in the case of multiple lender loans) of the loan.
Why Debt Financing: Debt investing is vastly different than equity investing. Debt investing focuses on mitigating risk at every turn in order to maximize the probability of earning a fixed rate of return and collecting specified fees. Conversely, equity investing seeks multiple avenues of potential upside to compensate for the downside risk of losing the entire investment amount to a debt holder. The advantage to "Debt" is that the debt investment – the underlying loan – is backed by a hard asset, in our case real estate (the home) as collateral, and not just a business plan of what someone hopes to achieve. In addition, by lending only up to a certain percentage of the initial value of the hard asset, the integrity of the debt investment is insulated from asset value declines up to the full amount of pledged equity.
6. Loan Servicing
Our lending company arm is licensed to service mortgage loans. The loan servicing team will be responsible for collecting borrower payments and transmitting monthly payments to the investor, typically this will be through ACH lender Debiting. The servicing team will be the main point of contact when it comes to updating real estate portfolio, tax questions, or quarterly income statements. The future platform will be your personal lender/investor portal and will provide access to real time information and documents 24/7 should you need anything after business hours.
7. Recovering Your Investment
During construction our wholly owned Real Estate Brokerage Company, VH Real Estate will keep the project listed for sale and will be take back-up reservations in case the borrower fails to pay or complete the transaction once the home is completed. Because we build affordable much needed housing, we have not held a finished home longer than 4 weeks. As you can imagine with our VA, FHA and 100% USDA Rural Development investor approvals, the list of individuals that require affordable housing along with the Real Estate Investors that buy rental housing is strong, our homes are in great need and we feel will continue in most markets.
As the lender on a loan, there is a risk of the loss of principal and unpaid interest payments should the loan go into default, but because the property stays in our name along with the investors we NEVER have to foreclose. We only build in markets that have pre-determined risk tolerances. Our loan servicing team is experienced in managing the past due collections, default process, and ultimately sale or liquidation of the property if needed.
What Stock or other Investment can you own where there is something to touch and sell? While there is potential loss of interest, principal and possibly needing to sell the project at a loss, we can re-list or sell the home due to buyer back-out. The expenses are potentially recoverable from the resale of the property. First Home Builders will always finish or complete the project, list it for sale, and handle the final transaction all the way through returning our investors funds first before ours.
When will First Home Builders offer investments in my state?
Back on March 1, 2019, we announced that our offering will be going through the legal process of being qualified by the U.S. Securities & Exchange Commission under Tier II of Regulation A, enabling us to offer loans to investors nationwide. This is an important step to our investment offering expansion. If this application is not approved, we will offer our loan investments in Michigan and Florida. Since we are the builder currently on 100% of our loan offerings, we need to concentrate in the markets which we currently build or are licensed to sell Real Estate as this philosophy will best protect our corporation and investors.
First Home Builders and Vettraino Group Lending Platform for Funding First Homes Coming Soon!
Founded in 2013 by David Vettraino owner of the Vettraino Group of Companies and First Home Builders which is a registered trademarked named and a wholly owned subsidiary of Vettraino Homes, LLC, we are headquartered in Brighton, Michigan with a mission to take on the Affordable housing crisis and solve it with affordable custom stick built homes, funded by us and the private lending public, institutional investors, or anyone looking for a great return on their money. Office location currently is 2388 Genoa Business Park Drive, Brighton, MI 48114. David Vettraino our President/CEO is always available to discuss our current and future business plan and how the Vettraino Group of Companies and it's dedicated staff is working hard every day to solve the affordable housing crisis that exist in the U.S. today. Together with our suppliers, subcontractors, local county governments Townships, end mortgage loan providers, and soon to be this Crowdfunding Lending Platform we will have the foundation to provide the much needed affordable housing that is missing in today's market!
We are deeply appreciative of the future investors' interest in helping us solve the affordable housing crisis that exists today. As we our growing the demand for our product we are sensitive to the needs of our investor base as we strive to match loan supply with demand. We will only be releasing loans once all our approvals from the SEC is in place and the platform has tested and is ready to go live. We are currently taking names building our future investor base, while we continue to expand our building of affordable home capacity. We estimate by the end of 2020-2021, we will have 100 projects totaling $15,000,000.00 – $19,000,000 million dollars in loan platform funding available to investors and estimate an annual rate of return of 8.00%-10.00% and investors having a "Debt" security in the funded project. Anyone looking to invest in First Homes through Frist Home Builders will be on a waitlist. We have corporate suppliers, townships, municipalities that are willing to fund projects and supply vacant property all counting on us to provide solutions which will hopefully create the roadmap for us to solve this affordable housing crisis gripping our nation.
We are and have been actively building homes in the Livingston County, Michigan market since 2012 under Vettraino Homes. We also had the first 5 speculative First Home Builders homes under construction as of February 2019 and all recently have gone under contract to owner-occupied first-time home buyers. In fall 2019, we will start our next batch of 10 First Home Builders homes. Our model plan is proven and the demand for our service is exceeding our supply of funds. Come See for yourself and visit any one of our current First Homes under construction.
If you are a potential new investor, you must first join the waitlist by activating your account to gain access to the ongoing approval process and have access to documents when the lending platform becomes available for release. After activating your account, just hang tight. Our legal staff is hard at work! We will let you know when it is time to take the next steps. Over time, we will begin allowing a controlled number of investors from the waitlist begin investing with us as we continue to scale and grow our supply of loans. This means we will pace the growth in our investor base to match our growth in loan supply. You can also follow our progress and new housing starts at www.firsthomebuilders.com and www.vettrainohomes.com
Getting Started with First Home Builders Investing Platform is easy! To get on the list of potential Investors and to keep up to date on our approval process "CLICK HERE"
© 2019 First Home Builders. All rights reserved.
1 Return is based on a calculated average of returns from all company funded loans originated internally from our past activity. For a full discussion on our projected and past loan performance to date, please keep posted on our site to read our Offering Supplement soon to be released.
OFFERINGS FOR SECURITIES UNDER REGULATION A ON THIS WEBSITE ARE CURRENTLY OPEN TO ALL US RESIDENTS WHERE THE ISSUER HAS FILED STATE NOTICE.
The information on this website does not constitute an offer to sell or invest in Debt Security Investments ("DSI's") identified herein in any state or jurisdiction in which the issuer is not qualified to do so. Securities or future Debt security investments offered and sold under Regulation A of the Securities Act of 1933 ("Regulation A") only to investors who are residents of the states in which First Home Builders or Vettraino Group. ("Vettraino Group of Companies") has either qualified an offering statement under Tier 1 of Regulation A or made notice of its intent to offer and sale securities under Tier 2 of Regulation A. [Vettraino Group, or its affiliates, may also offer securities to accredited investors. Investors who believe they qualify as accredited investors may access additional information about these offerings here or when the platform is LIVE. ]
Vettraino Group or one of its wholly owned subsidiaries will or may have filed offering circulars and post-qualification amendments (or "PQAs") (including supplements to such filings) with the Securities and Exchange Commission (the "SEC") covering the future offering of our Debt Security Investments. An investment in DSIs entails risk of loss, and you may lose all or part of your investment. Each investor should carefully consider the risk factors and other information discussed in the future, to be issued, qualified offering circulars/PQAs (or current supplements, if any) before purchasing or funding DSIs:
THE COMMISSIONER OF BUSINESS OVERSIGHT OF THE STATE OF CALIFORNIA DOES NOT RECOMMEND OR ENDORSE THE PURCHASE OF THESE SECURITIES or DEBT INSTRUMENTS
Offerings by Vettraino Group or First Home Builders, LLC
Subscription Agreement(s)
Prospectus
Offering Circular(s)
Or any other required documents
When available a copy of these materials may also be obtained for free on
the SEC's website at www.sec.gov
Some statements in the offering circulars/PQAs and on this website may contain forward-looking statements and are based upon current expectations, plans, estimates, assumptions and beliefs that involve numerous risks and uncertainties. Vettraino Group also believes that the expectations reflected in such forward-looking statements are based on reasonable assumptions, actual internal results and performance could differ materially from those set forth in the forward-looking statements. You should consult with your own attorneys, accountants, and other professional advisors prior to making an investment.
The information on this website does not constitute an offer to sell or a solicitation of interest in any LROs that may be qualified in the future. This investment opportunity described on our web site and above has not yet been approved by the SEC and we currently will not and are not approved to sell, solicit nor accept funds from any outside potential investor No part of an investment in a DSI can be received until an offering circular/PQA covering such DSIs has been qualified by the SEC. Any such offer to invest in a unqualified DSI's will be immediately withdrawn or revoked, without obligation of any kind, at any time before notice of its acceptance is given after the date of qualification. An indication of interest in our investments involves no obligation or commitment of any kind.
The information above presents a general summary of our future business and the purpose and principal business terms of an investment in DSI's. This summary does not purport to be complete and is qualified in its entirety by reference to the more detailed discussion contained in soon to be released offering circulars.
Articles or information from third-party sources outside of this domain may discuss Vettraino Group (or its affiliates) or relate to information contained herein, but Vettraino Group and its affiliates do not approve and are not responsible for such content. Hyperlinks to third-party sites, or reproduction of third-party content, do not constitute an approval or endorsement by us or any of its affiliates of the linked or reproduced content.
Neither the SEC nor any state securities commission or regulatory authority approved, disapproved, endorsed, or recommended the merits of the offering described in this information or reflected on this website.
Vettraino Group's future investment services may and hopefully will constitute "crowdfunding" as described in Title III of the Jumpstart Our Business Startups Act ("JOBS Act").